Table, "Chance and Harmony" Hardwick Hall, Derbyshire, 16th c.
---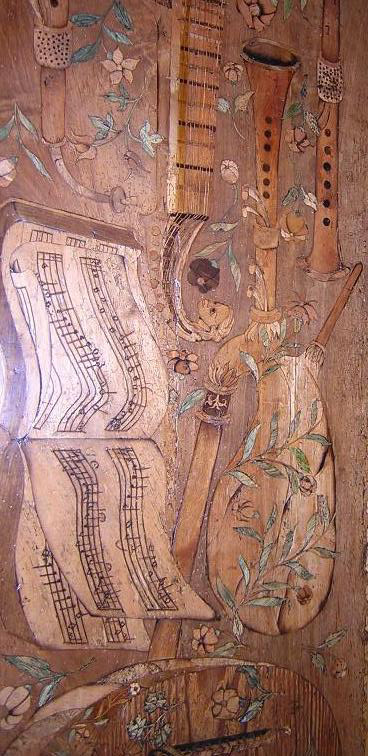 I'll have to let Sean talk about this in his own words.
Hardwick Hall, near Chesterfield in Derbyshire,UK
The woman who had the Hall built was called Tess of Hardwick, and having married well 4 times, with I think, 3 husbands dying on her, was worth a fortune. She became very influential and had the 'whole' house covered in tapestries and embroideries. It's an amazing place!
I kept my eye out for the odd roaming bagpiper and eventually found the tapestry in the 'Blue Room' (a state room) hidden behind a chair! The state rooms were built to hopefully house Queen Elizabeth 1, but she never came to stay. The tapestries are mostly all 16th century Flemish ones.
The table was another amazing find. I started at one side and it wasn't until I got right the way round that I came across this - I nearly missed it too! It was made to commorate the marriage of Bess to the Earle of Shewsbury and also the marriage of 2 of Bess's children to 2 children of the earle. the games on one side of the table represent chance and the music side representing harmony, so the table dates back to the 16th century, late 1500s!