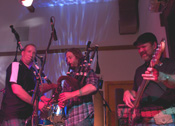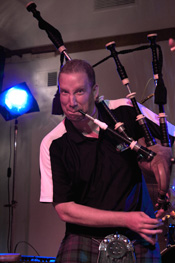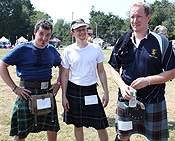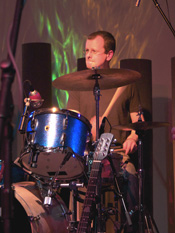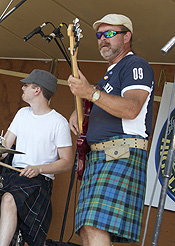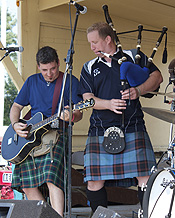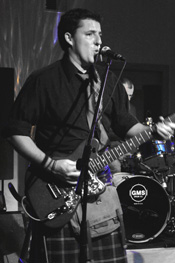 In an effort to take music in new directions, a group of college friends at the University of Vermont started "The Experimental Music Program." They had some fun, but the group produced lack-luster results until one day a bagpiper came into their midst. What strange beastly creation was this? There was no place to plug in an amp. The piper tuned it with... electrical tape? Could this have been what they were searching for? It was.

Aron Garceau grew up listening to the music of Stevie Ray Vaughn and Led Zeppelin. Often experiencing delusions of grandeur, he actually thought that maybe, just maybe, Led Zeppelin would re-unite and he would get to see them live. He imagined that halfway through the show, some freak accident would claim the left hand of Jimmy Page, forcing Robert Plant to turn to the audience holding up Jimmy's impotent guitar and plead, "please, is there anybody out there who knows how to play 'Stairway to Heaven'?"

Iain Macharg grew up listening to the music of the Battlefield Band and the Tannahill Weavers. Often experiencing delusions of grandeur, he actually thought that maybe, just maybe, the Tannies would play a show in his hometown and halfway through the show, some freak accident would claim the left hand of Gordon Duncan, forcing Roy Gullane to turn to the audience holding up Gordon's flaccid bagpipes and plead, "please, is there anybody out there who knows how to play 'Maggies Pancakes' and 'Dancing Feet'?"


| | |
| --- | --- |
| | It was like Chocolate and Peanut Butter. From this unlikely pairing came a band unlike any other with Aron's hard rocking edge and Iain's mastery of an instrument which is a proven, guaranteed DJ repellent; the Bagpipes. The only thing they had to do was come up with a name. Led Zeppelin was already taken, as was the Tanahill Weavers. The Led Weavers sounded pretty lame, as did the Tanahill Zeppelins so one mid afternoon, while playing hooky from work the boys found their name in a book somewhere. It was actually pretty uneventful. That name was Prydein. |

After they agreed upon a pronunciation (pry' den) and tried to figure out the whole "I" before "E" thing, they decided that the Welsh language was pretty strange. But after the release of their first album in 1999 "Unfinished Business", they realized that they couldn't change their name now that it was in print. It also didn't matter as "Unfinished Business" was the coolest album they had yet recorded (with 3 or 4 albums to their names with other groups) with the opening track "Farewell to Eirann" being featured (despite having bagpipes on it) on numerous radio stations and podcasts even being hailed "Most Original Track" on Garageband.com

Shortly after the release of "Unfinished Business", Aron and Iain had a soul searching and decided to disband the group. They both wanted to start families and were basically getting sick of each other. The friendship that they had developed was more important to them than the music, which they had been performing for the last 6 years, so they called the whole thing off early in 2001.

In that time they each had children, they stayed in touch, and once a year they would get together a band and perform for the New World Festival in Randolph, Vermont. Soon things started to turn around, performing together became fun again and in 2005, Aron and Iain brought in new blood.


| | |
| --- | --- |
| | Andy Smith, a public school music teacher and bass player for the Mighty Sam McLain Band heard all of the tall tales that Aron used to tell about his days playing in a celtic-rock band and was intrigued. Andy expressed interest in playing with the group and in 2004 he joined the group for the worst gig they ever played. They didn't even get paid. Despite this fact (and maybe due to the fact that he got to hang out with Natalie MacMaster all weekend... okay, maybe it wasn't the worst gig ever) he decided that the music was more important than the money so he would stick around. |
| | |
| --- | --- |
| In 2006 the boys were hired to play on the main-stage in Concord, New Hampshire as part of the New Hampshire Highland Games. In a very Spinal Tap way, their drummer exploded so Aron and Andy quickly got on the phone and convinced drummer Caleb Bronz to sit in with the band. As the drummer for the Mighty Sam McLain Band, Johnny A and the Gordon Stone Band, Caleb's drumming spanned all genres (and it didn't hurt that in his younger years he was a devout Zeppelin fan). Caleb immediately hit it off with the rest of the band and continues to be the only member of Prydein who almost never wears a kilt (and for good reason). | |

Piper Iain Mac Harg's credentials are impressive (and a bit long) as he's been at it since he was old enough to hold a pennywhistle. Moving up through the ranks of competitive piping he moved out of grade 1 in 2005 achieving the status of "Open Piper" (which basically means he can play anything). He has been to Scotland to compete in the Pipe Band World Championships twice and has gone on to start his own massive pipe band, the Catamount Pipe Band based in Marshfield, Vermont some 50 strong and comprised solely of his own students.

Guitarist Aron Garceau's credentials are less impressive but at least he knows who James Taylor is (ask Iain, it's a long story). Aron Graduated from the University of Vermont in 1996 with a degree in Music Education and a concentration in Classical Guitar (the "celtic guitar" classes were full). Aron then spent the next 11 years trying to get Iain to stop thinking purely in terms of traditional music. Iain, in turn, spent the last 11 years trying to ignore him (see the section on "band breakup"). They eventually reached a compromise deciding that they were both right. Despite originally thinking that all bagpipe tunes sound alike, Aron can now often be seen on stage humming the tune to Iain (who often forgets how they start), while Iain has branched outside the norms of Highland Bagpiping tradition going so far as to tape his chanter (the part that looks like a keyless oboe) so that it will play in strange and magical keys.

Hazen Metro started out life as a trombone player in the school band lead by none other than Andy Smith. Hazen had heard about this band that his music teacher was about to join and after much cajoling Hazen convinced his father to bring him along to the worst gig Prydein had ever played (remember that one from earlier?). The funny thing is, it was only the worst gig in that nobody showed and nobody got paid. But in actuality is was a weekend spent playing music with and hanging out with the band Solace, Natalie MacMaster and her crew and even Seven Nations (back before they swore of traditional music... before returning to it again later). It really was a great weekend and Hazen was hooked. He immediately got himself a practice chanter and took up lessons with Iain (he really wasn't much of a trombonist so no loss there... don't tell him I told you that). After acquiring a full set of highland pipes and successfully moving up through the ranks of the Catamount Pipe Band Hazen took off to Scotland for 4 years where he attended the The National Piping Center and the Royal Conservatoire of Scotland in Glasgow forming his own band; King Arthur's Men. After years of study and busking on the street Hazen graduated with honors and returned to Vermont, took on a leadership role with the Catamount Pipe Band and helped them to win a 4th place trophy in the World Bagpipe Championships in Scotland. It was upon his return that Hazen also joined Prydein as it's 5th member and the only other piper to record on a Prydein studio album in more than just a support capacity. As the youngest member of Prydein it is Hazen's job to make sure all the guys take their meds...


| | |
| --- | --- |
| | When Dan Houghton first sat in with the band, the sound of two bagpipers playing in harmony was enough to make blood shoot out of your eyes. Dan also plays flutes, bouzouki, mandolin and just about anything else he can get his hands on. He grew up surrounded by Scottish traditional music and has played throughout Europe, Asia, the New World and the Antipodes. In New Zealand Dan played pipes, bouzouki and banjo and sang in the Irish band Blackthorn. In 1999 he co-founded the Scottish traditional power band, Cantrip. While Dan is no longer an active full time member he can be heard on the band's 4th release; "Live at the Fort" and will often sub in the band when Iain and Hazen get abducted by aliens or hit by lightning (the last one is true). Dan's disdain for the more over-played aspects of Scottish traditional music can often be heard during the last set of the day as strains of 'Jingle Bells' harmonize and meld with 'Scotland the Brave'. Oh, and get off his lawn... you're breaking his grass. |

Prydein's studio recordings capture the band's amazing ability to stay rooted in tradition while raging. In 2007 the band released, "Loud Pipes Save Lives" to great reviews. This CD features the group's high-energy concert closer, "Stairway to Scotland", an arrangement of what they consider the "Stairway to Heaven" of Scottish music; "Amazing Grace" and "Scotland the Brave." In 2010, Prydein released "Heads Up" followed shortly after by the live album: "Prydein Live at the Fort". On St. Patrick's Day 2017 Prydein released its most impressive CD yet; "About Time" featuring a truly diverse collection of music full of originals and covers of music that the boys have found influential in their musical lives. This is music in all sorts of styles and feels from jigs and reels to 80's pop, funk and, of course, rock. It ranges from acoustic to distorted, ancient to modern, sensitive to tear-your-head-clean-off.


Whether you call it Celtic-rock, kilt-rock, bagpipe rock, Scottish-rock or even Sham-rock, Prydein delivers a high-energy performance loved by young and old. A typical Prydein audience is a pretty even mix of folks; elementary school kids to those disenchanted youth with hair the color of toxic waste and holes in their body that they weren't born with standing next to elderly couples holding up cell phones in the air so that their middle-aged children can hear the amazing sound coming from a rock band with bagpipes. Call it what you will...

...they call it fun.